The incoming Permanent Secretary of the Ministry of Police Affairs, Mr. Abel Olumuyiwa Enitan has stated that he was not posted to the Ministry to reinvent the wheel of progress but to key into all the fantastic achievements recorded by his predecessor.
He made this known during the handing-over ceremony between the incoming Permanent Secretary Mr. Abel Olumuyiwa Enitan and Mr. Temitope Fashedemi at the Ministry Headquarters in Abuja.
The newly posted Permanent Secretary said that he is ready to work with the management team in the police ecosystems to confront the challenges ahead and ensure effective and efficient service delivery to the system and the citizens of the country at large.
In his words, "I know that the fantastic achievement did not come suddenly but through a process that took time to manifest in terms of what we have seen and heard. You are able to achieve and of course, do so with the cooperation of staff and agencies under the ministry. We have to justify it and with your cooperation, we can get the job done. I have no doubt in my mind that we will smash the records and elevate it to a new level".
He charged the management team and the staff to continue to cooperate, be committed, diligent, hard work, provide positive expertise and drive to achieve what is achievable.
According to him, "I am apostle, believer, promoter and advocate of an open-door policy and I will be easily available to new ideas anytime and work as a team to identify challenges together and confront them for the improvement of service delivery. I challenge you all not to rest on your oars and do more work and reward for hard work is more work".
Earlier, the outgone Permanent Secretary, Mr. Temitope Fashedemi urged the management team, staff, and agencies to work with an open heart with the new Permanent Secretary and support him to ensure that the mandate of the Ministry is continue to be achieved.
In his words, "we are able to record milestones in the ongoing police reforms which are not yet finished with the support of Mr. President and stakeholders to improve and better the operations of the policing in the country through numerous implementable policies, equipment, facilities and improved salaries for the police officers".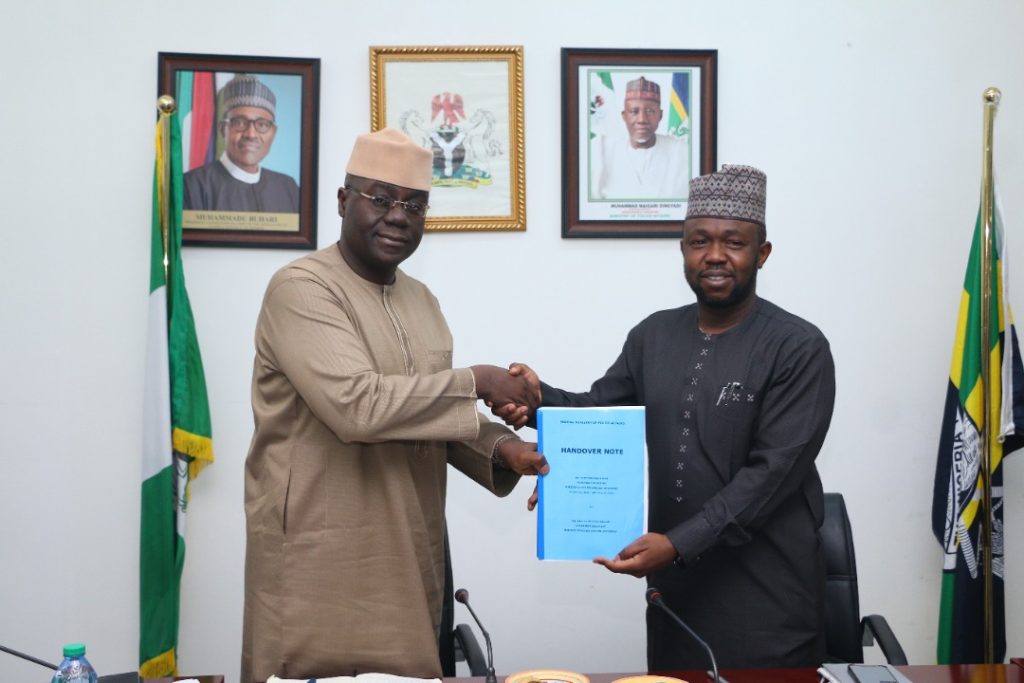 Bolaji O. Kazeem
Head (Press and Public Relations Unit)
August 26, 2022
Pic 8925 L-R: Incoming Permanent Secretary Mr. Abel Olumuyiwa Enitan and (Outgoing Perm Sec) Mr. Temitope Fashedemi during the handing over ceremony at the Ministry Headquarters in Abuja.
Pic 8925 L-R: Director (Legal), Barrister Bolarinwa Omoluabi; Director (General Services), Mrs. Edemanya Ibilola Brayila; Director (Human Resource Management), Mr. Iche Kalu Anya; Director (Police Inspectorate Department), Mrs. Mat Eleojo Akpan; Incoming Permanent Secretary Mr. Abel Olumuyiwa Enitan; Outgoing (Perm Sec) Mr. Temitope Fashedemi; Director Accounts & Finance), Aondoka Emmanuel; Director (Planning Research and Statistics), Mrs. Margaret Azeez; Director (Police Service Department), Mr. Joseph Oluwole Samuel; Director (Procurement), Mrs. Umukoro Christy; Director (Reforms), Maryam Dalhatu Abdulmalik; and Head (press & Public Relations) Mr. Bolaji O. Kazeem during the handing over ceremony at the Ministry Headquarters in Abuja
DIRECTOR PLANNING RESEARCH AND STATISTICS MRS. MARGARET AZEEZ
DIRECTOR POLICE SERVICE DEPARTMENT (PSD) MR. JOSEPH OLUWOLE SAMUEL
DIRECTOR POLICE INSPECTORATE (PID) MRS. MARY ELEOJO AKPAN
DIRECTOR FINANCE AND ACCOUNTS MR. AONDOAKA EMMEANUEL
DIRECTOR PROCUREMENT MRS. UMUKORO CHRISTY
DIRECTOR HUMAN RESOURCE MANAGEMENT ICHE KALU ANYA
DIRECTOR GENERAL SERVICES MRS. EDEMANYA IBILOLA BRAYILA
DIRECTOR REFORMS MRS. MARYAM DALHATU ABDULMALIK
AD REFORMS MRS. ONIYANGI AMINAT LARAI
HEAD AUDIT FAGADE OLOYEDE