By Chioma Dibia
In recent times, there have been calls for the scrapping of the National Youth Service Corps (NYSC), a scheme that was established in 1973 by the government of General Yakubu Gowon to involve youths, especially graduates in the development of the country.
For most of the people who went through the programme about twenty years ago, the one-year NYSC period would go down in their life as one of the best time of their life. Within the period, they met new people and found new homes in their places of postings and primary assignment, which in most cases were far away from their places of abode. Also, the community development aspect of the scheme, which created to make corps members contribute to their immediate locations of primary assignments, were really a delight for most corps members, until insecurity started crippling into the country at the current.
The call for the scrapping of the scheme became even louder in recent times with the spate of strike actions being embarked upon by the academic staff of Nigerian tertiary education institutions that has made tertiary education less fun.
Despite all the negatives, NYSC corps members have found somethings to take away in form of skills that they never had prior to enrolling in the NYSC scheme.
From Hair Dressing to Metal Works, Welding, Massage Class, Makeup and Gele tying, as well as ICT, Fashion Design, Photography, Shoe-making, Bag-making, and advanced graphics design, the Skills Acquisition and Entrepreneurship Development (SAED) department of the NYSC has been able to equip some corps members with what can take them through life after service with ease.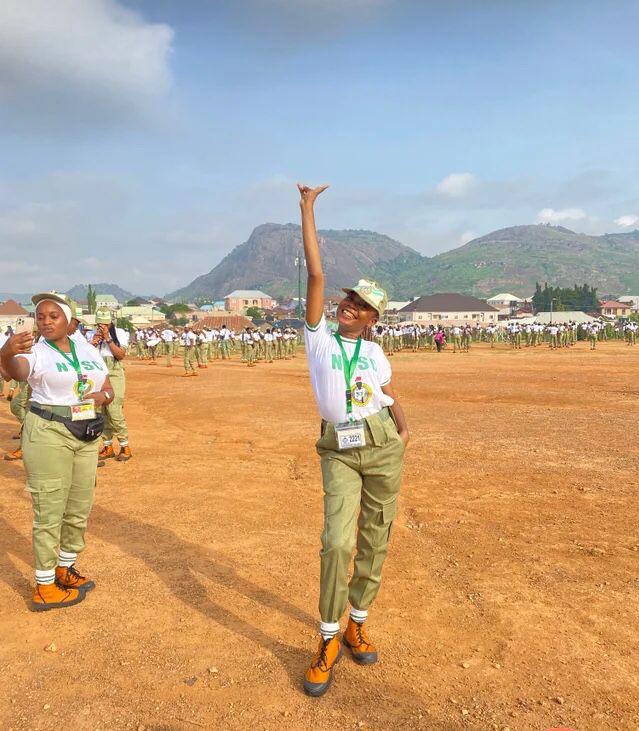 Miss Esther Williams a serving corps member who is serving in Abuja with the National Bureau of Statistics, had her orientation at the Kubwa, Abuja camp.
She participated in Massage and Makeup/Gele tying training.
When asked what she intends to do with such skills now that she is out of camp, she went ahead to say she intends to become a professional makeup Artist.
"I am so happy to have learned two different skills that will help me make money and be independent," Miss Williams told Presidential Diary.
Miss Gloria Olanipekun is another serving corps member who is serving with the Standard Organisation of Nigeria (SON).   
Like Esther, Miss Olanipekun also camped in kubwa Abuja camp.
She acquired some Culinary Skills from camp, specializing in baking and other Foods.
When also asked what she intends to do with such skills she said she intends to Start up her own Business after the NYSC service year.
"With what I have learned from NYSC, I am looking at how to open my own business. I want to thank the Federal Government of Nigeria through NYSC for introducing the skills Acquisition program to our camp," Miss Olanipekun said.
According to her, she can now has knowledge on how to prepare puff-puff, cakes and cocoanut rice.
Gift Simeon a Serving corp member took part in the skills Acquisition. She learnt Fashion Design. She said she intends to start up a fashion design business and class also to teach others.
"I am already looking at the possibility of running my own fashion business outfit and school where I would be able to teach others what I have learnt during my NYSC service year.
The Presidential Diary's Chioma Dibia, who is also a serving corp member, is also a beneficiary of the SAED initiative.
"From camp, I enrolled in the SAED programme and have learned and acquired good skills on body massage, makeup/Gele tying," Miss Dibia said.
Apart from just knowing the arts and technics from the skills acquired, Miss Dibia said she learnt more.
"Now I know the importance of Body massage and how it helps the Body Mentally and Physically and as for the Makeup/Gele tying she learnt to tie Gele better and the types of gele including the Infinity and fan, rough holds, as well Bridal and casual makeup for the makeups," she said.
Arinze Okonkwo, a serving corps member serving at Mc dream Homes Limited spoke on the Skills Acquisition he participated when he was in camp.
Arinze participated in Animal Husbandry specifically Fish and Rabbit.
He further went ahead to mention his gains, adding that acquiring additional skills has enlightened him to know how to take care of rabbits and how to separate Catfish at a certain Age.